It's that time of year again!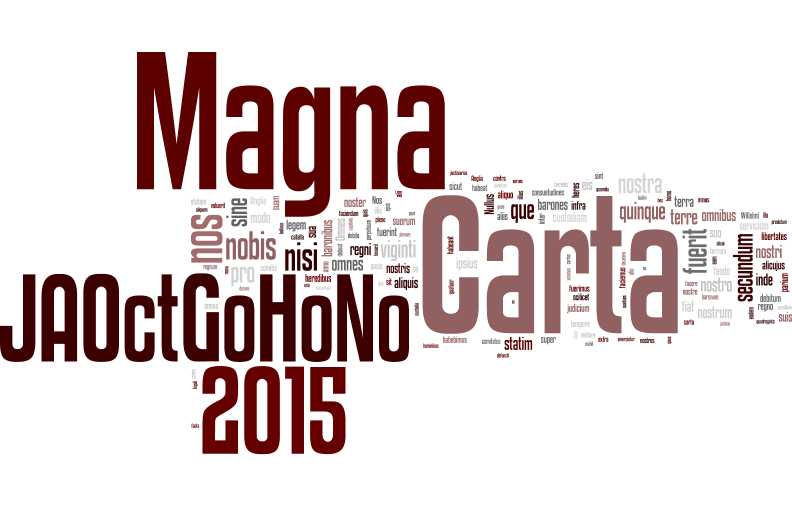 Time to start another round of the good old JAOctGoHoNo, that great collection of all stories horror, terror, nonsense and pirates that has come to be what we all love best about Hallowe'en!
We're all used to seeing Kay's name here, but the sad truth of it is, our dear leader has no internet connection this year and has handed the
sceptre
pitchfork to us (that is, Shemmelle and me). We hope to prove worthy of this honour and will certainly do our best!
So! Let's do her proud and get the ball rolling. Your ever-mean hostesses have settled on a wonderful theme for this year because of the special anniversary we're celebrating. This year is going to be all about 800 years of Magna Carta!!
What's it going to be for you? Medieval
Emma
with Mr Knightley the Baron drafting the Carta? Sir Walter Elliot the local squire receives a copy of the Carta? Maybe there is a map in invisible ink on the back of one of them and Marianne Dashwood discovers it! Is there a band of vampires/werewolves/pirates/dentists after the Magna Carta and only Fanny Price can stop them? Let the plot bunnies run wild!
Whom do I have to ask if I can enter?
No one! Just come along and join the fun! JAOctGoHoNo is for everyone – the more, the
merrier
scarier! There is a group of people who participate almost every year (and some who always promise to write something, but still haven't delivered
Yeti No.3
- just saying!), but new faces/fangs/masks are always welcome! If you feel this is the thing for you, just go along with it! There's no registry, no entry, no deadline – if you can make it, great. If you can't make it, well, that's a shame, but we won't hold it against you. JAOctGoHoNo is about the fun, not the contest. And if you can't write a story this year, doesn't mean you can't still have fun in the comments, and maybe share a plot bunny or two.
But I know nothing about the Magna Carta! How can I still participate?
Nothing easier than that! Go with your imagination – write whatever tickles your horror fancy – just make sure to reference the Magna Carta
somewhere
. Did you know that apparently there are pubs called the Magna Carta? Maybe that's where your gang of zombies meets every Wednesday! Or is Magna Carta the password necessary to get into the speakeasy/open the mummy's tomb/unlock the doomsday device – share ideas in the comments!
Is there anything I'm not allowed to write?
Well, yes, and no. Anything that is a no-go on the DWG the other 364 days of the year, is still a no-go on Hallowe'en. Anything else that comes to your mind, however absurd, twisted, scary, not-so-scary, is a definite go-go! You can't put a price on horror and you can't stick a definition on the JAOctGoHoNo! Just write whatever you like.
I'm new to this! How do I go about it?
As with the rest of it, it's easy. Find a theme. Plot a story. If you're stuck, need inspiration or a proof-reader, ask in the comments. Everyone likes to share their gruesome ideas! Hopefully, your story will be done by 31st October, whenever that is in your end of the world. If your computer clock says 31st October, you're good to go! Post your story to the DWG message board. Use a scarified posting name (the Simpsons Hallowe'en name thing). IMPORTANT: Please make it clear who is lurking behind the mask, so that our wonderful archivers will know how to archive the story. (Old hands: please use the names you've used previously, to make it easier!) Then, enjoy yourself! Read the other stories – comment early, comment often, you know you want to! Maybe look into chat – most years, Her Grace, Georgiana, the Duchess of Devonshire, manages to set up a little party there.
Can I drown Darcy dead?
Absolutely! There is never a JAOctGoHoNo where you can not do that!
Anything else I need to know?
Nope. That's all. If you have any questions, however, feel free to ask! We only bite on Fridays, and never before tea.
---
"I want you to know that you matter. I want you to know that your lives matter, that your dreams matter." (Barack Obama, 03 June 2020)